ALL-TEX LOCKSMITHS IS A LOCALLY OWNED AND OPERATED FULL SERVICE LOCKSMITH SERVING ALL OF JOHNSON COUNTY. WE OFFER BOTH MOBILE SERVICE AND SHOP LOCATION.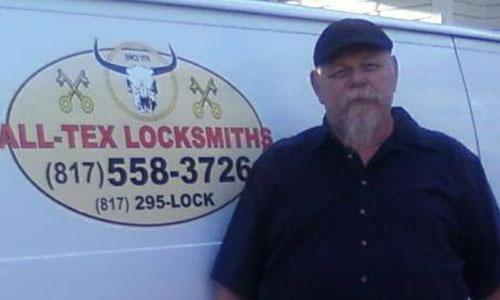 ABOUT US
All-Tex Locksmiths is a full service locksmith. We are Fully Insured and licensed by the STATE OF TEXAS (LIC. #B12309). We have been serving Johnson County & the surrounding area since 1995 with complete AUTOMOTIVE, COMMERCIAL & RESIDENTIAL lock service. We offer the largest selection of key blanks in Johnson County including tubular & transponder keys.
FAST AFTER HOURS UNLOCKING SERVICE
FAST, LOCAL SERVICE TO GET YOU IN YOUR CAR OR HOME ASAP!
Call us at 817-558-7878 or 817-295-LOCK
Located at 807 S. Robinson St. | Cleburne, TX 76031
We Proudly Serve the Following Areas:
ACTON, ALVARADO, BLUM, BURLESON, CLEBURNE, COVINGTON, CRESSON, CROWLEY, EGAN, GRANBURY, GRANDVIEW, GLEN ROSE, GODLEY, HILLSBORO, ITASCA, KEENE, KOPPERL, LILLIAN, MERIDIAN, MORGAN, RIO VISTA, WALNUT SPRINGS, WHITNEY, AND VENUS